Reading Time:
5
minutes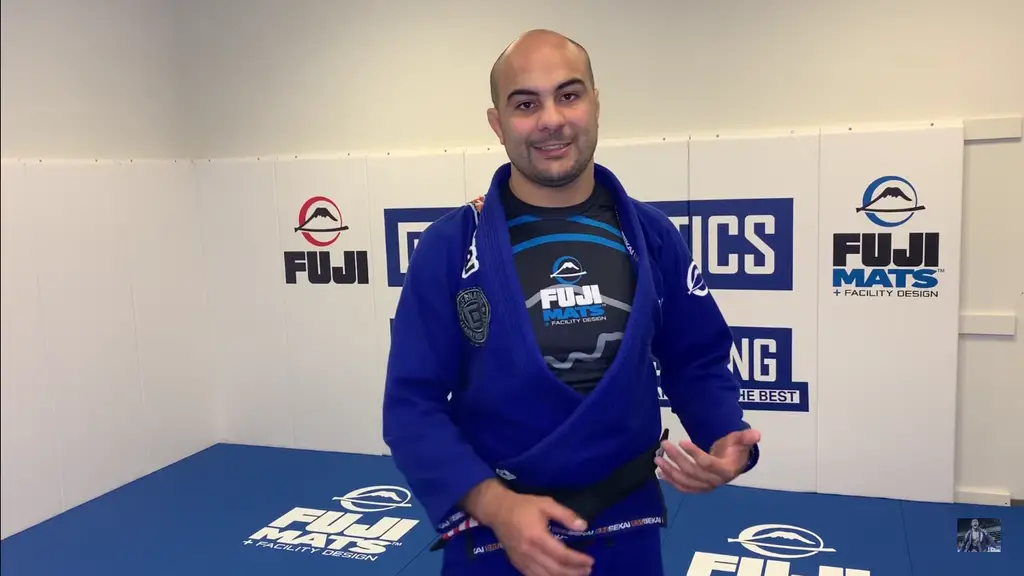 All of us want to progress in Jiu-Jitsu as quickly as possible.
There'll be times when you feel that you should be training more but can't, due to work or family responsibilities.
It might be another aspect of your game that needs to be improved.
This article aims to determine whether free or paid BJJ instructionals are worth using.
BJJ instructionals seem like a great idea on the surface.
A few hundred dollars can get you hours of detailed technique instruction from your favorite athletes.
If it worked for them it's certainly going to work for you.
There are many choices of different instructionals if you go on BJJFanatics or Jiu Jitsu X.
Besides the fact that many can't afford these instructionals, many might not have the time to watch and practice these instructionals.
It will depend on how far along you are in your Jiu-Jitsu journey.
If you're still a beginner, most instructionals won't be worth your time and money, as you likely won't be able to grasp more of the advanced concepts and techniques.
Stick to fundamental instructionals and leave the berimbolo for later.
It's important to ask yourself the following questions:
What aspect of your game are you looking to improve?
Will this work for me?
Is it worth the money?
ALSO READ: [EXPLAINED] Gi Vs NoGi BJJ | 16 Things To Know Before You Start
Advantages Of BJJ Instructionals
The advantage of purchased instructionals is that you're able to rewatch as much as you like until you have perfected your technique.
For example, should you be practicing what you learned and are not successful, you'll be able to go back to the instructionals and rewatch to improve your technique.
Typically BJJ academies will work on a concept or series of moves, in drilling and specific sparring for a couple of weeks.
It might not be enough for you, or you might connect with one series and not the other.
Not everybody has the opportunity or the time to train in a gym that offers 6-8 classes a day.
Some might only be able to make 1 or 2 classes a week.
Instructionals allow you to practice techniques in your own time.
Learning From The Best
In many of these DVDs, the athletes and coaches will give you step-by-step guides on the moves and techniques they used to win major tournaments and titles.
The expertise you'll learn from them is exceptional.
One of my personal favorite instructionals is Gordon Ryan's My Evolution Your Revolution, where he breaks down all his ADCC 2019 matches and shows exactly how to do what he did and why he did it.
It's worth your time if you have some level of expertise.
Using the breakdown structure, you can see what you did well and what needs improvement for your rolls and competitions.
ALSO READ: [EXPLAINED] What's The Best Age To Start Brazilian Jiu-Jitsu
Disadvantages Of BJJ Instructionals
It's important to practice the moves in the instructionals to get the most out of them.
It's going to be difficult to watch a couple of techniques from an instructional and expect to perfect them at the onset.
If finding someone to drill with at home or before class is difficult, an instructional focusing on technique won't be worth your time.
A Jiu-Jitsu instructional might break down different concepts, but their applications are much broader.
Although you could get away with trying these different concepts in live rolling, it would be better to drill them beforehand.
For instance, instructionals focusing on dynamic positions such as guard retention will cover concepts you can use without drilling.
Choose Instructionals For Your Body Type
Body type can play a crucial role in BJJ, it's not that one body type is better than another.
You will likely gravitate towards specific techniques depending on your body type.
This is because you will be far more effective with those techniques and be effective with them faster than other techniques.
Known for their d'arce choke in BJJ, the Ruotolo twins have hit the submission in multiple competitions and superfights, including the WNO and the ADCC trials.
Since both twins have extremely long arms, they find themselves in a lot of scrambling situations and end up in front headlocks and d'arce submissions in many matches..
You should focus on all the major submissions in BJJ and at least have a basic knowledge of each.
Focus on submissions that will benefit you, then on areas that are most important for BJJ success.
For heavier individuals and those with good upper body strength, Guillotine and Kimura are more appropriate.
Rear naked choke, or any form of the back position, does not favor any type too much, and everyone should focus on it, since it is the most common submission technique in gi, no-gi, and MMA.
ALSO READ: ADCC The Definitive Guide
Choose Instructionals For Your Skillset
You can use instructionals no matter what level you are in BJJ.
You need to make sure you're picking one that is appropriate for your skill level.
This is mainly focused towards people with less than 1 years experience.
There won't be much use picking an advanced instructional which focuses on techniques and positions you rarely find yourself in.
Beginners tend to find themselves mainly in the following pin positions: Mount, side control, north south, knee on belly, and back mount.
Therefore, it is important to get out of these positions as quickly as possible and avoid being submitted.
Your BJJ skills are going to be weak when you start out.
Focus on the areas that are the most important to be skilled at BJJ.
The first step is not letting someone dominate you for the entire game.
For more experienced people, it comes down to what you want to learn and which instructors you enjoy learning from.
As leg locks and wrestling have become integral parts of no gi BJJ in recent years, you may want to improve your skills in these two areas.
ALSO READ: [EXPLAINED] Can BJJ Be Taught Online?
Price
Many people might have an issue with the cost of instructionals.
You typically see John Danaher, Gordon Ryan, Craig Jones, and others on BJJFanatics if you sort by the most popular.
Their instructionals cost approximately $200.
After paying $200 you are not guaranteed that you will enjoy the instructionals.
ALSO READ: BJJ Gi Buyers Guide | All You Need To Know
Best Free BJJ Instructional
There are, however, free instructionals for those who prefer not to spend money.
BJJFanatics currently only have two free instructionals. One of which is a solo drill instructional from John Danaher.
Its aim is to improve your movement during live rolling.
The instructional is very focused on guard recovery and retention.
Another free instructional by Andrew Wiltse, Knee Slice Pass is great for people of all levels.
Andrew Wiltse is one of the best no-gi competitors in the world. He's an undefeated WNO competitor, a silver medallist, and the IBJJF No-GI pan championship.
YouTube
YouTube won't have the same level of instructors compared to BJJFanatics and Jiu Jitsu X.
You will, however, still be able to learn a decent amount of techniques on YouTube for free.
The Tristar Gym YouTube has an extensive library of techniques and concepts that will benefit your game.
ALSO READ: [EXPLAINED] How To Make Money In Jiu-Jitsu Without A Gym
Conclusion
Everyone has different goals in their BJJ journey and instructionals can help you get there.
It's important to do your research beforehand and make sure it's the right one for you.
I'm a Purple Belt in Brazilian Jiu-Jitsu and I write about the latest in all things martial arts.