Reading Time:
10
minutes
In recent years it's become popular for professional MMA fighters to compete in no-gi Jiu-Jitsu matches.
But never has a grappling card consisted of such high-level MMA fighters.
On December 30th in Philadelphia, Fury Grappling 3 will take place, and it will be streamed on UFC Fight Pass.
Below is a quick overview of the card, but keep reading to get my predictions.
Fury Grappling 3 Card
Danielle Kelly vs Carla Esparza
Sean Brady vs Craig Jones
Donald Cerrone vs Joe Solecki
Clay Guida vs Billy Quarantillo
Chase Hooper vs Renato Moicano
Nick Rodriguez vs Steve Mowry
Neil Magny vs Joaquim Silva
Phillip Rowe vs Joanthan Piersma
Eddy Torres vs Alex Caceres
Kevin Holland vs Kody Hamrah
Phil Hawes vs Andre Petroski
Gillian Robertson vs Crissy Briggs
Danielle Kelly Vs Carla Esparza – 130lbs
Due to covid 19 protocol, Carly Esparza is stepping in for Rose Namajunas against Danielle Kelly.
The UFC strawweight number 1 contender is currently on a 5 fight win streak and is looking like the strongest wrestler in the strawweight division.
Which showed in her last fight against Yan Xiaonan who at the time looked to be the biggest prospect in the division, until her match-up with Esparza.
Esparza dominated every minute of the fight until the second-round stoppage.
But her opponent Danielle Kelly is currently ranked 6th in the women 115lb no-gi division and has multiple submission wins in WNO and ADCC trials.
Kelly's biggest submission strengths are leg locks which, though becoming more popular in MMA, are not frequently used submissions in MMA.
So I doubt Esparza will be able to deal with the leglocks of Kelly.
Predication: Danielle Kelly via submission.
Sean Brady Vs Craig Jones – 200lbs
Fresh off the biggest victory in his career against Michael Chiesa, 9th ranked UFC welterweight Sean Brady is taking on ADCC silver medalist Craig Jones.
Brady, who has only lost 1 round in the UFC which was the third against Michael Chiesa, and has shown off his strong grappling abilities over multiple opponents including a submission victory over Jake Matthews.
But he's never faced someone like Craig Jones, an ADCC silver medalist who went 4-0 in grappling matches in 2021 beating Ronaldo Junior, Luiz Panza, Tye Ruotolo, and Davi Ramos.
I doubt Brady will be able to stop Jones from getting into the legs from the bottom position, never having to deal with someone with such a strong bottom game.
As it's rare to see a fighter use their Jiu-Jitsu from the bottom in MMA.
Prediction: Craig Jones via submission
ALSO READ: [BREAKING] Craig Jones Vs Pedro Marinho | WNO Light Heavyweight Title
Donald Cerrone vs Joe Solecki 170lb
In an old school vs new school match 54 fight, veteran Donald Cerrone takes on 11-3 Joe Solecki.
Both men are Brazilian Jiu-Jitsu black belts and Cerrone has 17 submission victories in MMA, 10 of those being in the UFC or WEC.
Also of note is Cerrone's victory over Rafael Dos Anjos at Submission Underground 18 via armbar in overtime.
Cerrone has also just competed at Combat Jiu-Jitsu worlds against Craig Jones.
Though an interesting match, it wasn't a very competitive match-up with Jones being bigger, younger, and one of the best grapplers in the world.
His opponent, Joe Solecki has an extensive BJJ background starting at the age of 6 years old.
He also recently started competing in grappling matches.
First at the ADCC East Coast Trials where he scored two rear-naked choke victories.
Losing his third match to high-level black belt Jonathan Satava, a former trials winner.
Also a few weeks ago Solecki competed at the UFC Fight Pass Invitational in a Quintet style event, having one match with UFC middleweight Gregory Rodrigues which ended in a draw.
It wasn't a massively interesting match, with Solecki spending the majority of the match playing guard against Rodrigues, neither able to advance position.
A few leg lock attempts from Solecki but Rodrigues was always able to disengage and reset.
Solecki has shown at the ADCC trials and in UFC that he's a slick submission artist and has a fast-starting style, which is Cerrone's biggest weakness that it always takes a few minutes for him to warm up and get going.
Predication: Solecki via submission.
ALSO READ: [EXPLAINED] 5 Best Martial Arts for Bullying
Clay Guida Vs Billy Quarantillo – 170lbs
Future UFC Hall of Famer, Clay Guida is coming off his massive 1600 submission victory over Leonardo Santos.
Meaning, if you bet £100 for Guida to win by submission you would've net £1600.
The match is quite something to watch, as Clay Guida takes all of Santos's best strikes for the whole first round and somehow remains conscious.
Then in the second, he takes down an exhausted Santos and submits a high-level black belt by rear-naked choke in what would've been the upset of the year.
If it wasn't for Hernandez vs Vieira.
The always entertaining Guida will be looking to use his strong wrestling and endless gas tank against Quarantillo.
Quarantillo is a Matt Arroyo black belt and is 4-2 in UFC with 5 submission victories in MMA.
He recently came off one of the best fights of the year against Shane Burgos losing by decision.
Quarantillo certainly has good grappling but I don't think he'll be able to deal with the pace of Clay Guida and I don't see him winning the wrestling exchanges.
Especially after watching him struggle against Gavin Tucker in the grappling exchanges.
Clay has a lifetime of wrestling experience one of the best gas tanks in the UFC and will likely be heavier and stronger than Quarantillo,
Predication: Clay Guida via decision
ALSO READ: [EXPLAINED] 5 Best Martial Arts For Big Guys
Chase Hooper Vs Renato Moicano – 170lbs
Jiu-Jitsu specialist Chase Hooper faces Renato Moicano.
Both fighters are known for their submission ability with Hooper having 5 career submissions and Moicano having 8 career submissions, including one in his last fights against Jai Herbert.
But Hooper seems to have a real specialty with Jiu-Jitsu which he started at age 8.
Hooper also won gold at the 2016 IBJJF Pans at Juvenile blue belt, and has an armbar victory at Fight To Win Pro 39.
Hooper's main weakness is his wrestling which has been the main issue in his UFC career so far.
He is just unable to get the fight to the ground with most of his opponents and use his strong Jiu-Jitsu game.
Moicano on the other hand was able to impose his grappling in his UFC fight, especially in his last fight against Jai Hebert where he took down the Englishman 5 times and finished with a second-round submission.
But this being a grappling match I will give the edge to Chase Hooper because when he gets the fight to the ground he almost always dominates the fight.
Predication: Chase Hooper Submission.
ALSO READ: [EXPLAINED] 7 Best Martial Arts For Beginners
Nick Rodriguez Vs Steve Mowry – 255lbs
Number 6 Bellator heavyweight takes on ADCC silver medalist and B-Team coach Nick Rodriguez.
Mowry currently is 10-0 in MMA and has finished all 10 of his fights including 6 submissions with 3 being via kimura, and got his black belt from Gilbert Burns.
But taking on Rodriguez in a grappling match is going to be a difficult task.
The ultra-talented Rodriguez has an amazing ability to perform at a high level and despite only training Jiu-Jitsu for 3 years, he's already the number 5 ranked heavyweight in no-gi Jiu-Jitsu.
He also had an extremely impressive performance against Yuri Simoes at WNO Gordon Ryan vs Vagner Rocha.
In which he was able to use wrestling and strong bodylock passing against Simoes for the whole 15-minute match.
Rodriguez is going to have the advantage in all areas of grappling including the standing position.
Prediction: Nick Rodriguez via submission
ALSO READ: [EXPLAINED] 7 Best Martial Arts With Grappling
Neil Magny Vs Joaquim Silva – 180lbs
In a strangle match-up, Neil Magny is facing UFC lightweight Joaquim Silva who is 4-3 in the UFC and has only attempted 2 takedowns in his UFC career electing to use his striking instead.
But he's very comfortable off his back as seen in the Jared Gordon fight. 
It will be interesting to see how he does against Brazilian Jiu-Jitsu brown belt Neil Magny, who will be significantly taller and longer than Silva.
In recent memory, the most ground game we have seen from Magny was in his fight against Robbie Lawler where he controlled the former champion for the majority of the fight. 
Looking at this matchup, I know Silva will be a lot more comfortable off his back than Magny, and Magny has got very long limbs so he'll have to be careful in the guard of Silva who does have an earlier victory via armbar.
Prediction: Silva via decision
Phillip Rowe Vs Jonathan Piersma – 190lbs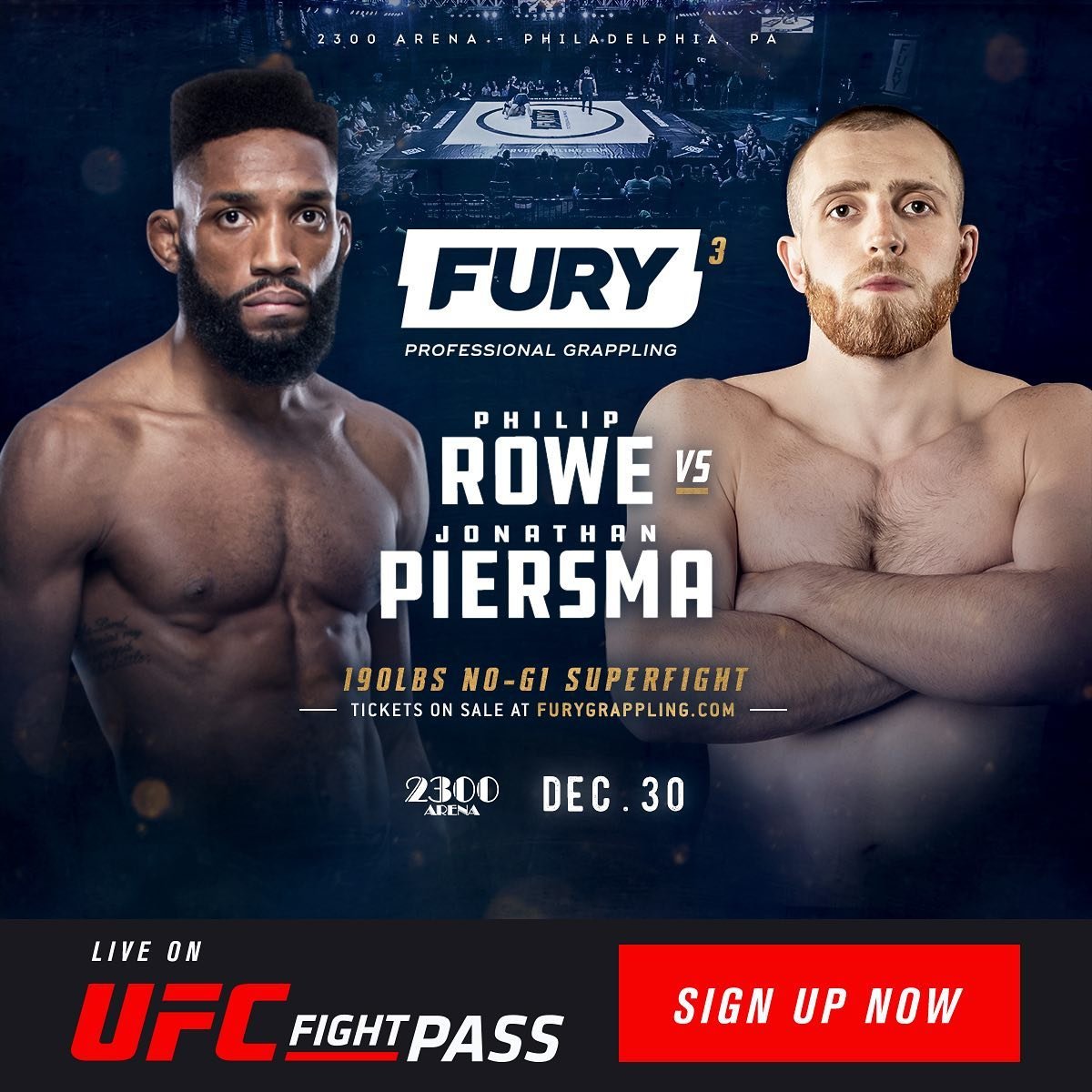 In a match of two MMA fighters who both regularly compete in grappling, Phillip Rowe takes on Jonathan Piersma.
Rowe is currently 1-1 in UFC and has had multiple grappling matches.
Not always successful but always entertaining.
Including two matches at WNO, one of those being an exhibition match with Gordon Ryan.
He's also competed in Kasai and Fight To Win.
The 8-3 has had 4 knockouts and 4 submissions in his career so far, so no doubt he'll be looking for the finish.
The same can be said of Jonathan Piersma who has a 3-0 MMA record with all wins by submission.
He was also Joe Solecki's teammate on the UFC Fight Pass Invitational in which he had one match again Rafael Lovato Jr., which ended in a draw.
But from watching the match it was clear that Piersma's gameplay was to stall out Lovato.
Piersma has also competed at Emerald City Invitational where he lost in overtime to 10th Planet standout, Alan Sanchez.
There is no doubt both fighters will bring high intensity to the match.
The only thing setting the two apart is Rowe has the experience edge both in MMA and grappling. 
Predication: Philip Rowe via Decision
ALSO READ: [EXPLAINED] Can I Train BJJ After Getting A Tattoo?
Eddy Torres Vs Alex Caceres – 165lbs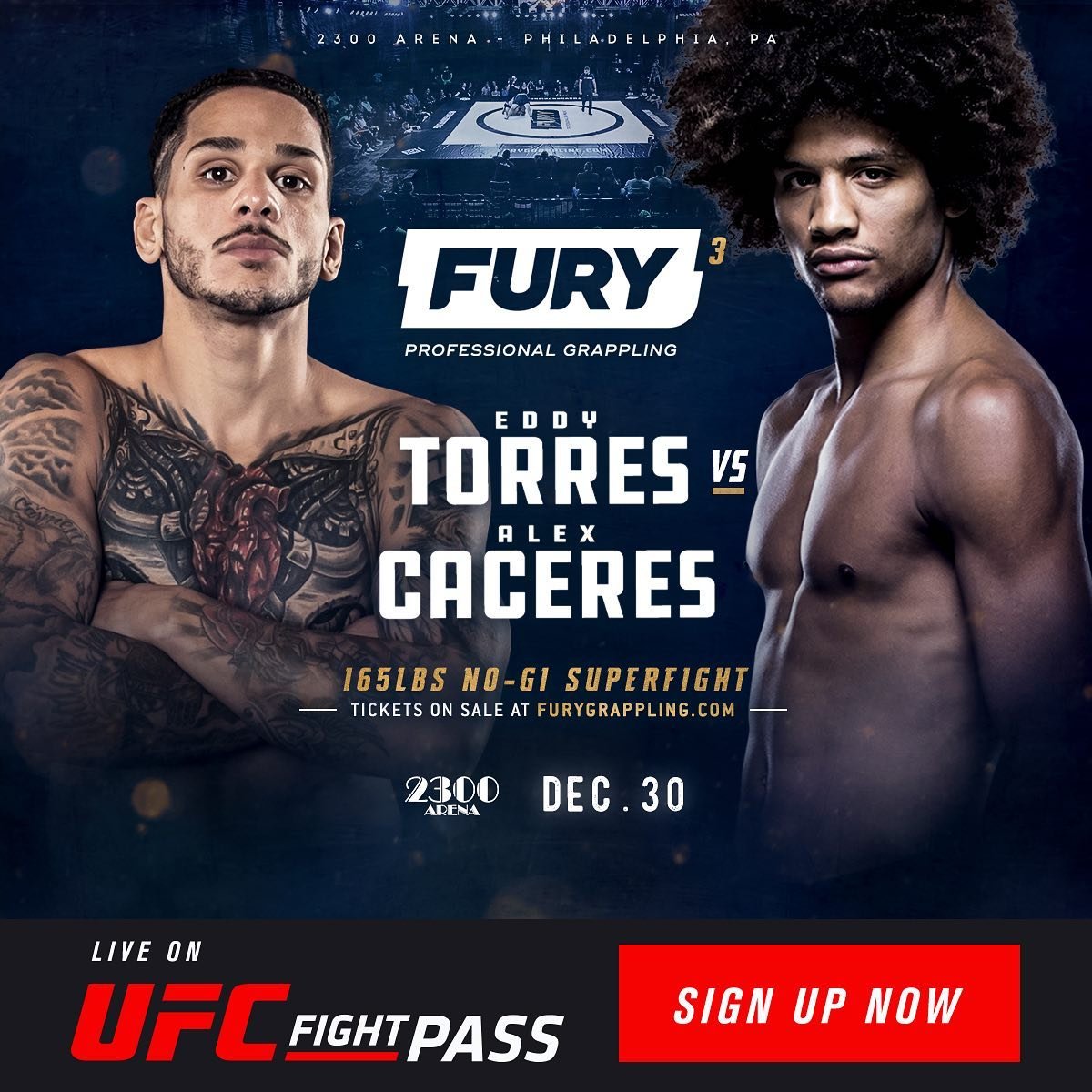 UFC 15th ranked featherweight Alex Caceres takes on 4-0 CFFC fighter, Eddy Torres.
Caceres who has quietly racked up 5 wins in a row after a decade in the UFC trading wins and loses.
In his last fight, he submitted Seung Woo Choi by rear-naked choke.
He's also fought another man on the card, Chase Hooper.
Winning via unanimous decision after shutting down all of Hooper's takedown attempts.
During my research, I haven't been able to find much about Eddy Torres other than he is a brown belt in Brazilian Jiu-Jitsu from Daniel Gracie, and has a 4-0 MMA record with 2 wins via submission.
But if his game is similar to his teammates Sean Brady, Pat Sabatini, and Andre Petroski – he's gonna be a strong grappler with strong top pressure.
Predication: Eddy Torres by Decision
Kevin Holland Vs Kody Hamrah – 185lb
The always game, 14th ranked UFC Middleweight Kevin Holland takes on NC State Wrestling Coach, Kody Hamrah.
Hamrah has an extensive coaching background in wrestling, most notable being Demian Maia's wrestling coach.
He recently scored a win over JZ Cavalcante at Fury Pro Grappling 2.
Holland, in recent fights against Marvin Vettori and Derrick Brunson, has shown a weakness in his wrestling and almost acceptance when being on the bottom.
In those two fights, Holland was controlled for 37 of 50 minutes, and 17 takedowns were scored between Brunson and Vettori.
I think it goes without saying that Hamrah will have better wrestling than both Brunson and Vettori. 
Predication: Kody Hamrah via decision
ALSO READ: [EXPLAINED] 5 Best Martial Arts If You're Overweight
Phil Hawes Vs Andre Petroski – 205lbs
Two UFC middleweights grappling it out.
Phil Hawes has an 11-3 MMA record and 3-1 UFC record, and Andre Petroski has a 7-1 MMA record and 2-0 UFC record.
Some backstory on Phil Hawes:
In 2009 he was a junior national champion at Iowa Central Community College in the 197lbs division.
In 2017 took gold in the IBJJF Pan no-gi at purple belt.
Despite such a strong grappling background both in Wrestling and Jiu-Jitsu, Hawes rarely uses it.
Mostly, using his wrestling base to keep the fight standing, where 7 of his 11 wins have come by knockout.
His opponent Andre Petroski has been very active on the grappling scene recently competing on Fury Grappling 1 where he beat Brain Nielson by decision.
Earlier this month he competed at the Emerald City Invitational 185lb tournament losing to young grappling standout, Sean Yadimarco. 
Looking at Petroski's two UFC bouts it's very clear he's most comfortable being on top using strong top pressure where he finished Michael Gillmore with ground and pound, and submitted Hu Yaozong via arm triangle.
It's also important to note that Petroski only has 28 minutes of UFC cage time and 17 minutes of control time.
So my prediction for this match between Hawes and Petroski is whoever gets on top will likely stay on top and win.
I'm giving Hawes the edge in wrestling and athletism.
Predication: Hawes via decision 
ALSO READ: [EXPLAINED] Striking Vs Grappling | Which Is Most Effective?
Gillian Robertson Vs Crissy Briggs – 135lbs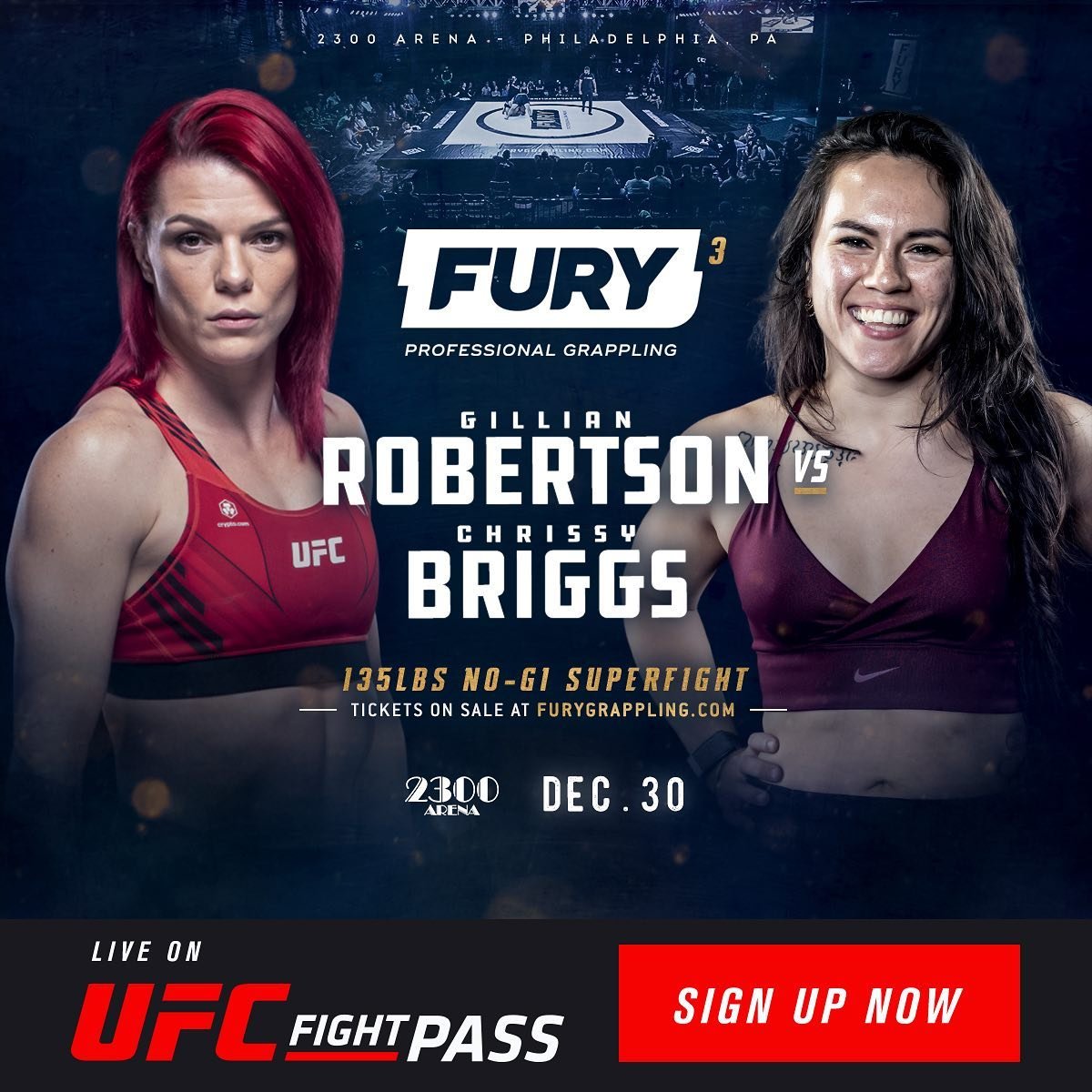 The current women's UFC submission record holder, Gillian Robertson takes on IBJJF No-gi world purple bronze medalist, Crissy Briggs.
Robertson who has only been in the UFC for 4 years, holds the record for the most fights at women's flyweight and most submissions in all women's diversions.
The always active Robertson had 2 fights in 2017, 2 fights in 2018, 3 fights in 2019 3 fights in 2020, and 2 fights in 2021.
She also had multiple appearances at Submission Underground, beating Katlyn Chookagian and Pearl Gonzalez.
Briggs is just a pure grappler and has some decent wins at super fights, including a finish at Fury Grappling 2 and her 3 place finish at no-gi worlds.
I will be very surprised if any of the MMA fighters who are taking on pure grapplers win, this fight is no different.
Robertson hasn't had any luck when she's had a grappling match with a high-level grappler.
Predication: Crissy Briggs via submission
ALSO READ: [EXPLAINED] What's The Best Age To Start Brazilian Jiu-Jitsu

I'm a Purple Belt in Brazilian Jiu-Jitsu and I write about the latest in all things martial arts.