Reading Time:
3
minutes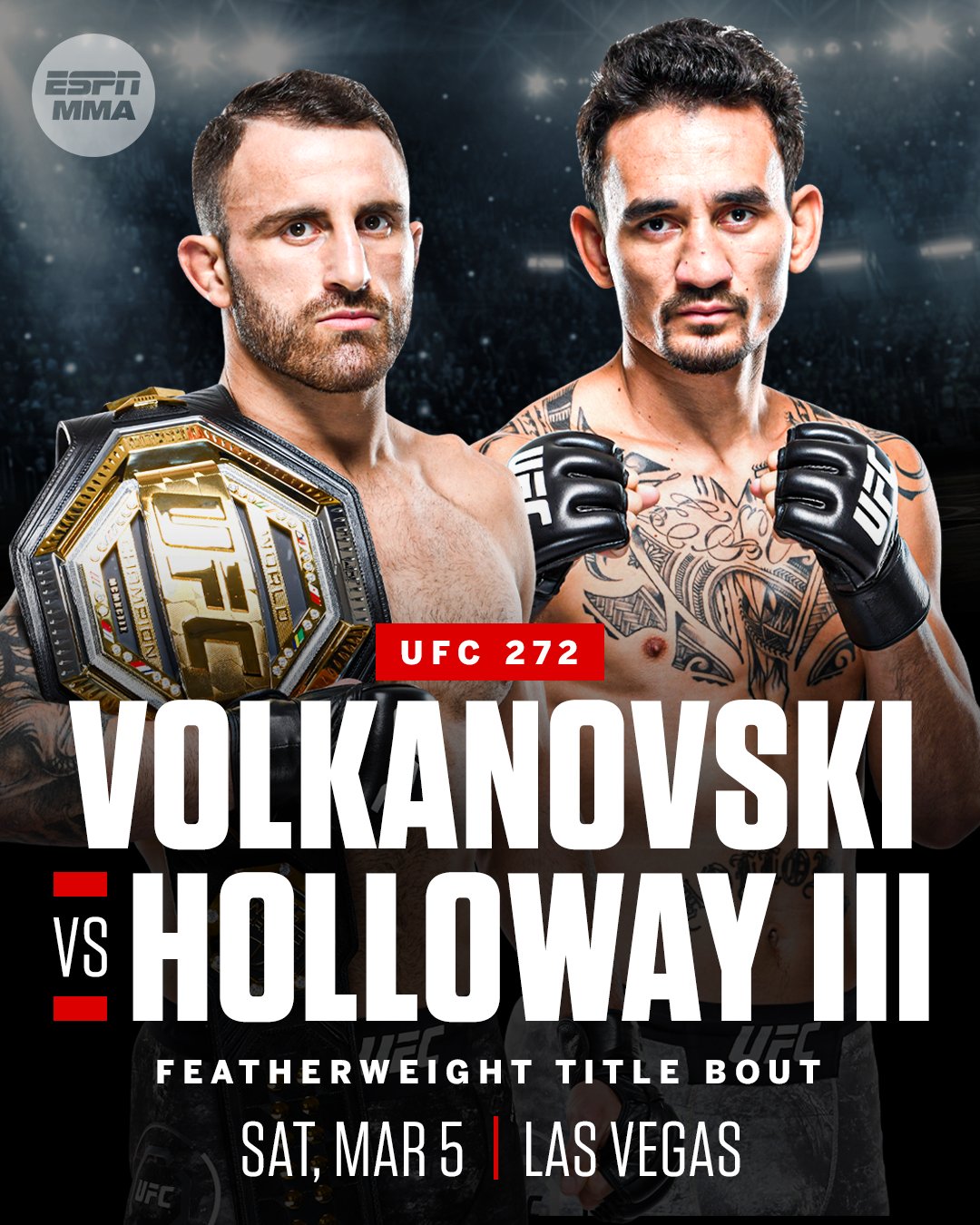 Alexander Volkanovski Vs Max Holloway 3 and Petr Yan Vs Aljamain Sterling 2 have just been announced to take place at UFC 272 on March 5 2022 in Las Vegas.
Volkanovski has just come off a fight of the year contender against Brian Ortega.
The champ had an absolutely dominant performance against Ortega winning rounds 1, 2, 4, and 5.
He also managed to survive a rocky round 3 where Ortega had him in a mounted guillotine, a D'arce choke, and a triangle.
With Volkanovski defending all of them and ending the round with some brutal ground and pound.
Leaving Ortega needing assistance from his corner to get him back to the stool.
At that point, the fight should have been stopped.
ALSO READ: [OPINION] Fights To Make In Each UFC Division In 2022
But it wasn't and Volkanovski went on to win the rest of the fight.
Holloway is coming off a main event fight against Yair Rodriguez, a fight in which Rodriguez gave him a lot of problems to Holloway on the feet.
Rodriguez was hitting Max with some big shots that might make a difference to the longevity of Holloway's chin.
We have also never seen Holloway wrestle this much in a fight before going takedowns in rounds 1,3 and 4.
This is a game he won't be able to play against Volkanovski.
Holloway just doesn't have the offensive wrestling to challenge Volkanovski
His only path to victory is to outstrike the champ.
From watching back their 2nd fight.
Volkanovski just gets stronger in the later rounds, once he makes reads on Holloway and adjusts his game.
Personally, I think Volkanovski just has Holloway's number, and 9/10 times Volkanovski edges out Holloway.
ALSO READ: [EXPLAINED] 3 Best Stand-Up Fighting Styles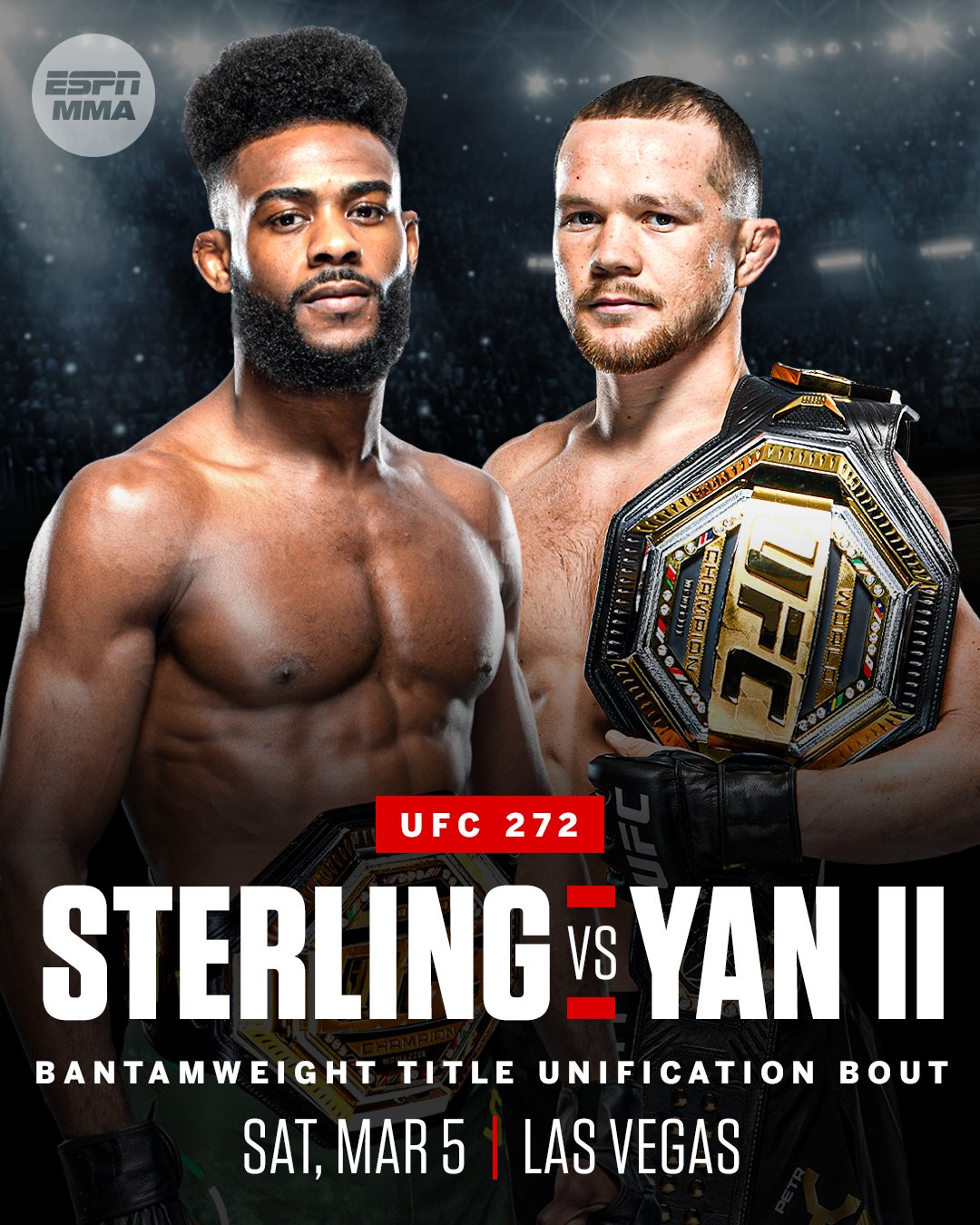 The second title fight added was the long-awaited rematch between Petr Yan and Aljamain Sterling.
However you feel about the first fight, and how Sterling reacted to the knee?
It happened and the rematch is set.
I don't think this fight is quite a cut and dry as most fans think it will be.
Sterling in rounds 1 and 2 gave Yan some problems with his aggressive high volume striking.
ALSO READ: [EXPLAINED] 4 Best Martial Arts For Bad Knees
Taking round 2 and the case could be made he took round 1 as well.
The main question is can Sterling repeat that against Yan over 5 rounds.
Because he started to gas heavily in rounds 3 and 4.
Yan is the best in the game at mid-fight adjustments.
Intercepting all of Sterling's heavy strikes with well-timed trips and takedowns.
In the later rounds
Which he showed against Sandhagen in his last fight.
Closing Sandhagen down, getting out of kicking range where Sandhagen does his best work.
It's going to be a great rematch.
Petr Yan has looked nothing short of amazing since entering the UFC.
If he wins it's going to be interesting to see how he deals with Dillashaw or possibly Merab Dvalishvili.
ALSO READ: [OPINION] Fights To Make In Each UFC Division In 2022
I'm a Purple Belt in Brazilian Jiu-Jitsu and I write about the latest in all things martial arts.