Reading Time:
14
minutes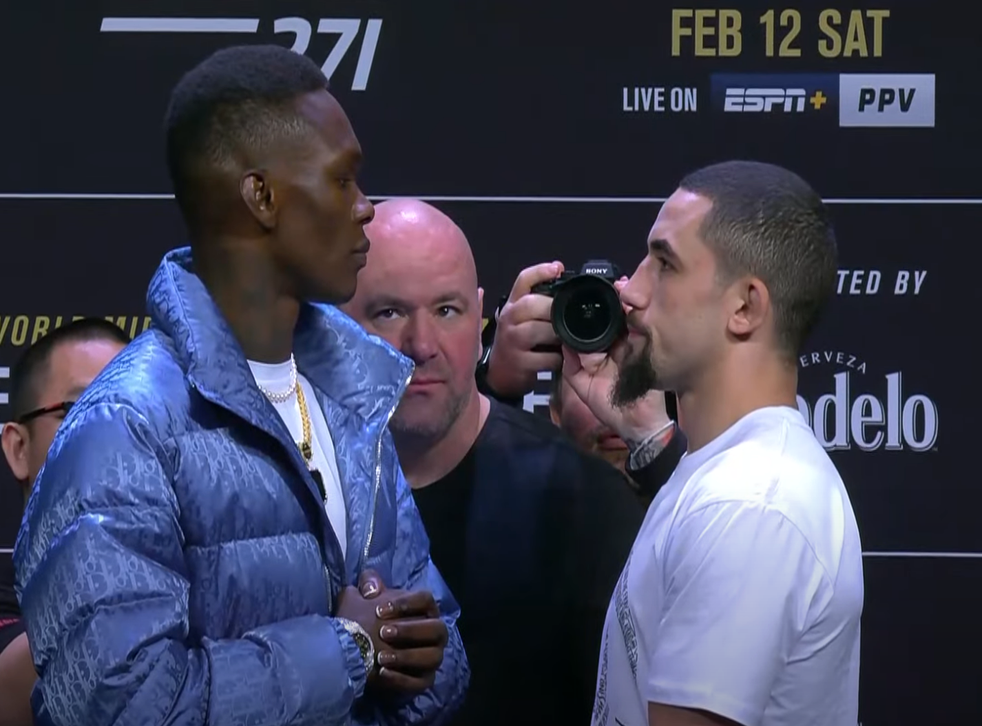 This Saturday Israel Adesanya defends his middleweight belt for the 4th time in a rematch against Robert Whittaker.
We also have two number one contenders matches.
As Derrick Lewis and Tai Tuavasa fight for the next shot at Francis Ngannou.
In the middleweight division, Jared Cannonier takes on Derek Brunson to see who gets the next shot at the middleweight belt.
Jeremiah Wells vs Mike Mathetha – Welterweight
Kicking off the card we have 3-0 Mike Mathetha who trains out of City Kick Boxing taking on 9-2-1 Jeremiah Wells who trains out of Renzo Gracie Philly. 
To anyone in the know about Renzo Gracie Philly it's a team that creates a lot of elite-level MMA grapplers. 
Fighters who can mix takedowns, strong top pressure and submission threats to the highest of level. 
It's the gym where Sean Brady, Pat Sabatini and Andre Petroski train out of. 
But from watching Wells's only UFC fight against Warlley Alves there was very little grappling involved spending most of the time trading on the feet. 
But taking on a City Kickboxing fighter in Mathetha I believe that he'll use his grappling which he'll undoubtedly have. 
I watched Mathetha last fight the biggest issue he had was throwing blind spinning attacks. 
He's very exciting to watch and has very good rear kicks. 
But he had the tendency of playing to the crowd. Throwing lots of spinning shit gets the crowd going. 
Wells is ultra explosive and closes the distance in a second.  
Wells could easily use that to get the takedown and start imposing his ground game. 
Furthermore, Mathetha hasn't fought since February 2020 and when someone is from New Zealand and Australia. I always ask how much have they been training in the past two years? 
Mathetha does have some kickboxing experience I saw he had a fight on GLORY so no doubt he's been around the scene. 
But this will be his 4th fight and he's dealing with explosive striking who won't match him technically but 100% could flat line. 
Who also has some high level grappling to go with it. 
I think it's a bit early for Mathetha. 
It was like those 3 fighters he beat were good fighters either 2 have negative records and the other is now 5-4 in MMA.
Unless Wells decides to stand and bang, I think he'll get outclassed on the ground.
Predication: Jeremiah Wells.
Sergey Morozov vs Douglas Silva de Andrade – Bantamweight
Morozov might be 1-1 in the UFC but his debut loss came to Umar Nurmagamedov one of the hottest prospects in the bantamweight division. 
He has some impressive grappling which showed off in the Khalid Taha, and Taha like Andrade is a fighter with heavy hands and a limited ground game. 
So the game plan won't need to change much at all. 
Andrade has always done best in fights where people just stand in front and try and trade with him on the fight. 
He has a strong Muay Thai base and showed in his last fight against Gaetano Pirello he's not to be underestimated on the feet. 
Getting the knockout in under two minutes
But due to his similarity with Khalid Taha. 
It seems very straightforward for Morozov do not try and trade with him on the feet because he's wild and has a lot of power. 
Get him to the ground quickly as he's almost no threat at all on the ground with just one submission on the ground in his 27 wins.
AJ Dobson vs Jacob Malkoun – Middleweight
This fight seems like the fight Malkoun has fought in his last two. 
The first was his 18-second knockout lost to Phil Hawes where he was violently knockout. 
The second is his three-round malling of Abdul Razak-Alhassan. 
AJ Dobson seems like the same type of fighter as Hawes and Alhassan heavy-handed power sprinters who want you out of there fast. 
Hawes has sort of grown out of that stage of his career. 
But Al-Hassan has only won via 1st round knockout and hasn't won a single round past the first in his whole career. 
Dobson reminds me of them both from watching his contender series bout against Arkhagha he came crashing forward trying to take his head off. 
Yes, he got the submission victory but it was because Arkhagha was so hurt from taking all those massive strikes that he gave out the submission.  
Dobson needs to decide is going for a conservative approach stop the takedown win the fight standing over the distance. 
Or try and go for the early finish and don't give Malkoun a chance to get going. 
Malkoun won the ADCC 2019 Asia Trials and is a good wrestler shown in his Alhassan fight. 
He absolutely can drain Dobson over fight by just forcing him to constantly defend takedowns. 
Because he'll confidently shoot 20-30 shots and still have energy over the 15 minutes. 
I can't say the same for Dobson ever if he stops 70-80% of them he seems far too fast-twitch to keep it up over 15 minutes. 
I'm picking Malkoun because of his experience fighting high explosive sprinters in the octagon before. 
But I wouldn't be surprised if Dobson got the knockout in the first few minutes of the fight.
Carlos Ulberg vs Fabio Cherant – Light Heavyweight
We have a banger another City Kickboxing fighter Carlos Ulberg takes on Fabio Cherant. Cherant is 0-2 in the UFC with two first-round losses. 
So he's gonna need a win here. 
I've seen a mixture of records for Ulberg some sources have him at 3-1 and some at 5-1. 
But he does have some kickboxing experience as well. 
From watching his debut against Kennedy Nzechukwu the only weakness he showed was restraint. 
The man throws 227 strikes in 8 minutes that's getting into Max Holloway territory. 
Ulberg was throwing fight-ending body and head strikes the majority of the time. 
Holloway is using that to tire you out because he doesn't have power. 
Ulberg has the power he showed in his fight against Oliveira which got him the UFC contract. 
He kicks extremely hard and I think this will be Fabio Cherants most difficult fight, and they are using him to propel Ulberg forward. 
Due to his slow starting ability. 
In his debut against Alonzo Menifield, he was too keen of snatch up that guillotine that got him power doubled right into a von flue choke. 
Against William Knight, he got caught backing away with his hand down and got clipped for the knockout. 
You know Ulberg will read that within a minute of their fight not to mention he's a far better striker than Cherant, and Cherant hasn't fought anyone with the length of Ulberg. 
Cherant will have to get the wrestling going because Ulberg will pick him apart on the feet, Cherant has zero knockouts and his first won't come against Ulberg. 
The big problem is those guys at City Kickboxing has some of the best anti wrestling in the game. 
Just look at Israel Adesanya how career only one man has ever been able to ground him for extended periods of time. 
No doubt he's explained all this Ulberg. 
I think Ulberg put the pace on Cherant early and gets a 1st round knockout.
Predication: Carlos Ulberg.
ALSO READ: Punching Bag Buyers Guide | All You Need To Know
Alexander Hernandez vs Renato Moicano – Lightweight
I don't think this fight is much a mystery here.  
We Alexander Hernandez who's a twitchy explosive kickboxer who has the wrestling if the fight isn't going his way on the feet. 
Moicano who's a back specialist who doesn't like to be touched. 
I see Moicano using the same gameplan he used to beat Jai Herbert lots wrestling and very cagey on the feet due to his dislike of being touched. 
Shown in his fight against Aldo, Chan Sung Jun and Fiziev. 
Hernandez might not have the same level of striking as those three. 
But his power and athleticism is far greater than all there's. 
He knows Moicano wants to get on his back as quickly as possible because it's where he's most comfortable all his submissions have come from the rear-naked choke and he doesn't have a single knockout in the UFC. 
Keep in mind he spends most of his career at featherweight so there's no way he knocking out 155ers. 
As long as Hernandez doesn't fight with emotion as he did against Cowboy I see him being able to control the range. 
He's also very explosive so even if Moicano takes him down i see him just bouncing back to his feet or even reversing position. 
They're both in unfortunate positions because they sit just outside the top 15 and I don't see them ever breaking into it.
Even 10-15 the fighters are too well rounded or such a specialist in cases of Riddell, Gamerot and Gillespie that I see them dictating the fight. 
I'm taking Hernandez he has the answers to the deal of Moicano's grappling. He'll 100% be the better striker.
Preidation: Alexander Hernandez.
Ronnie Lawrence vs Mana Martinez – Bantamweight
Just something to keep in the mind for this Ronnie Lawrence was forced to withdraw in his last fight against Trevin Jones due to weight cutting issues, and Mana Martinez came in 4lbs over the limit in his fight against Guido Canetti. 
Now Martinez was coming in on short notice. 
But do be surprised if this fight gets cancelled on fight week. 
The first thing that jumps off the page is Ronnie Lawrence is a damn good wrestler and keeps quite a pace. 
Averaging over 10 takedowns a fight in his last two. 
For some perspective, Mereb Dvalishvili averages 7 takedowns a fight he's well on course to smashing GSP takedown record. 
Nothing in Martinez past performances shouts that he can stop his takedowns. 
Especially someone with such good chain wrestling. 
If Lawrence doesn't get the 1st takedown he always gets the 2nd or the 3rd. 
His only big worry is that Martinez has 8 knockouts the last one coming to Jose Johnson early from a check left hook. 
So I would expect to Lawrence use more body lock takedowns and trips instead of double legs. 
Lawrence is a good striker in his own right. 
But I don't he'll choose to bang it out on the feet with Martinez when he has the superior wrestling.
Martinez did win his debut against Cannetti but he's 41 years old and was 8-6. He also lost the first round.
When I think the UFC expected him to get the knockout. 
Which is why I think they have matched him with someone as tough as Lawrence.
Predication: Ronnie Lawrence
William Knight vs Maxim Grishin – Light Heavyweight
The biggest question I have for this fight is how is William Knight going to close the distance at generous UFC 5ft10 and more heavily muscled than anyone else on the UFC roster. 
He's basically a lightweight with excess muscle mass. 
Taking on Maxim Grishin who's a small heavyweight. 
In his last fight against Dustin Jacoby, he looked considerably bigger than him but he did miss weight. 
Grishin has very good fundamental boxing combined with his long reach will give Knight problems. 
Tybura was able to ground Grishin but he's a proper heavyweight with a solid ground game. Knight has shown good wrestling in the past against Aleksa Camur. 
But I don't know if he'll be able to get it going against Grishin. 
The size difference might be too great. 
He has the raw power to end the fight in second. 
But the technical difference between the two might be too much for him. 
I'm taking Grishin he's a vet with a lot of experience. 
I think he'll just be able to make the reads necessary to get the job done. 
Stay out of the power hand and keep the fight at range.
Predication: Maxim Grishin.
Alex Perez (4) vs Matt Schnell (9) – Flyweight
Number 9 ranked Matt Schnell has a great chance to jump into the top 5 with a win here. 
His biggest weapon is his guillotine triangle chain. 
In both the Jordan Espinosa and the Louis Smolka Schnell was able to fire up a quick guillotine which he chained right into triangle choke through attack their broken posture. 
Dealing with Perez who does have some quite strong wrestling he could use this same setup if Perez shoots a double leg. 
You would hope since Perez's title shot he's learnt to respect submission attempts. 
Because he shouldn't have been caught in that guillotine. 
It was almost let he let Figgy lock up his guard once he got the head control.
 He can't do that against Schnell because he will snatch up his neck. 
But whenever a good grappler takes on someone with good wrestling and almost always take the wrestler. 
Due to the fact that the wrestler almost always knows who to dictate the fight and just bit more aggression. 
I think when it comes down the grappling its whoever ends up top will win the exchanges. 
But Schnell is not to be underestimated off his back whereas Perez is basically no danger off his back. 
I lean to say Perez has better striking but his last three wins are against Jussier Formiga a jiu-jitsu specialist. 
Jordan Espinosa a fight he ended in 2 minutes and Mark De la Rosa who has no top 15 talent and does his best work on the ground.
I think the -400 Perez odds are a bit miss leading Schnell could take this very easily. 
He's very slick on the ground and he's a fast dynamic striker. 
Might not have the same power as Perez but the level of stand up is closer than you think.
I'm going with Perez because he has the bigger wins and the wrestling advantage 
Predication Alex Perez.
ALSO READ: Boxing Gloves Buyers Guide | All You Need To Know
Roxanne Modafferi (12) vs Casey O'Neill (15) – Flyweight
We have two women at the opposite ends of their careers. 
Modafferi going into her 45th and final MMA fight after 19 years of competition. 
8-0 Casey O'Neill is having just her ninth pro fight. 
But did make her amateur debut back in 2014.  
Despite the odds, Modafferi could play spoiler as she did against Maycee Barber. 
O'Neill's done her best work on the ground with two ground and pound finishes over Shana Dobson and Antonina Shevchenko but neither of those women are known for having good ground games and have always struggled when put on their back.  
There is no way she'll be able to do that to Modafferi it has happen in past with her two fights with Talia Santos and Viviane Araujo but they had the size and the strength advantage. 
I don't see O'Neill having that same advantage nor do I see her having the better technical ability. 
To Modafferi who has decades of grappling experience. 
What you can count on is the age factor O'Neill is no doubt progressing her striking at a rapid rate to get up to par with her grappling. 
Whereas Modafferi isn't likely adding new skills to her game and she was never a good striker to begin with. 
It's awkward and could give O'Neill some problems. 
But as long as O'Neill keeps it standing I see her getting the unanimous decision victory.
Prediction: Casey O'Neill.
Andrei Arlovski vs Jared Vanderaa – Heavyweight
At 43 years old Andrei Arlovski is still one of the best heavyweights in the world and the only fighters who have given him problems in the last 3 years are the new school elite fighters. 
Tom Aspinall and Jairzinho Rozenstruik. 
Nothing about Jared Vanderaa screams top 15 ranked. 
He only holds wins over Tafa and Harry Hunsucker. 
Hunsucker has only lost via 1st round knockout against UFC level talent. 
Tafa whose only win is against Hunsucker. 
In his two losses against Romanov and Spivac, he's shown that he's useless when he put on his back. 
Now Arlovski almost never wrestles but the option is there. 
I don't see any solid attitudes in Jared Vaderaa other he's a nature 285lbs man with a solid chin. 
He's horrible when he's on top of you but there's not a lot of skill to what he does. 
He likes his tight waist grip and then blasts away with punches. 
If he gets Arlovski in that sort of position early in the fight he'll win. 
But after the first round, I don't see how he can win. 
He just plods along when he's on the feet and Arlovski will be able to keep out of the power punches. 
It's either 1st round knockout Vaderaa or UD Arlovski. I leaning towards Arlovski.
Predcation: Andrei Arlovski.
Nasrat Haqparast vs Bobby Green – Lightweight
Bobby Green is quietly having the best run of form of his whole career. 
Which he showed in his last fight with a two-minute knockout over Raging Al. 
His low hand gunslinger style has given a lot of fighter problems. 
He keeps up a ridiculous pace in his past 3 fights he's averaging 7.7 strikes landed per minute which would put him in the top 5 all-time. 
It was against good fights Raging Al, Fiziev and Moises. All current and formerly ranked opponents. 
Not to mention he gave Fiziev his toughest fight to date. 
He's no slouch at the wrestling  So it won't be as simple as if Haqparast can't get it going on the feet he can take it to the ground. 
Because Green has a 72% takedown defence and with his low hand will make it even harder. 
Haqparast lands 5.19 strikes per minute so he's also an active fighter and also has a bit more power in the hands than Bobby Green he is without a knockout since 2019 but nonetheless could give Green some issues. 
Whoever throws mores strikes will be able to dictate the fight. 
I would be surprised if either fighter started grappling but if they did Green would have the advantage.
So ill take Green through his grappling advantage.
Predication: Bobby Green.
Marcelo Rojo vs Kyler Philips – Bantamweight
We have a banger and a potential fight of the year candidate. 
Kyler Philips has 3 performance bonuses in 4 fights. 
Marcelo Rojo last fight against Charles Jourdain was an absolute barn burner both fighters going for the kill and not letting up at all. 
Both these fighters are trying to entertain more than trying to win. 
Rojo biggest problem with Jourdain was he was just too small to deal with Jourdain he didn't have the power to match Jourdain. 
But he's now coming back down to his nature bantamweight class. 
So he's going to be able to stand in the pocket more and trade. 
Without the same level of risk
Which seems like his preferred method of victory. 
Philips does have very good jiu-jitsu but uses it more when he's tired as seen in the Raulian Paiva fight. 
Phillips would 100% be a top 10 bantamweight if he fought more tactically. 
But I think he wants to put on a good fight rather than win. 
As seen when he does a spinning attack from a very awkward angle off of a long combination.  
If Phillips holds back some of the more crazy technicals in his stand up he should cruise to a unanimous decision victory.
Predication: Kyler Phillips.
ALSO READ: [EXPLAINED] 3 Best Stand-Up Fighting Styles
Jared Cannonier (3) vs Derek Brunson (4) – Middleweight
The unofficial title eliminator. 
 I see a lot of people saying if Brunson wins and Issy wins that the rematch doesn't need to happen.
 I don't get that at all since turning into blond Brunson I going back to his wrestling base he's had more success than ever. 
In this 5 fight win streak, he's looked so dangerous on the ground. 
He's just drowned fighters by making them defend the takedown. 
Just forcing mat returns once they get back up again. 
This was at light heavyweight but Cannonier has struggled against big grapplers with strong top games. 
Most notable Jan Blachowicz and Glover Teixeira. 
Brunson is no small middleweight. 
As long Brunson makes this a dirty grappling match and ties him up in clinches or pushes him against the cage I see him doing the things he did to Edmen Shahbazyan and Darren Till. 
Because Cannonier is carry a lot of muscle on his frame and he's very fast-twitch. A round and half of keeping Brunson off of him is going to drain him. 
This is not going to be like his fight with Gastelum. 
Cannonier is going to look small against Brunson and Brunson going to be far more explosive than Gastelum as well. 
Now if Cannonier keeps this fight standing he's going to win for sure. 
I just don't believe his counter wrestling is good enough to keep the fight standing.
Prediction: Jared Cannonier.
Derrick Lewis (3) vs Tai Tuivasa (11) – Heavyweight
The people's main event. 
Home town hero Derrick Lewis takes on fan favourite Tai Tuivasa. 
This is a fight where no one wants either to lose. 
Tuivasa since leaving Australia and moving to Dubai back in 2020 has really stepped his game up a lot. 
4 knockouts since his 3 fight skid. 
A win here puts him in a real chance of getting a title shot. 
Tuivasa has spent considerable time in the past training with Mark Hunt.  
Hunt was also to eat all of Lewis's best shots tire him out and finish him in the 4th round. 
It's no secret that Derrick Lewis doesn't like getting tired. 
If he does it's almost guaranteed he loses except in the case of the Volkov fight. 
Tai either hides it better or does have better cardio. 
But I think if Tai sees a tired Lewis he'll unload some back shots and try and take him. 
Not to mention Tai takes one hell of a shot seen in his Greg Hardy win. 
Hardy is the most athletic heavyweight on the roster. 
Also to mention Derrick doesn't have the best performances when fighting in Houston. 
He struggled against Gane and didn't have a great fight against Latifi either despite the win. 
There is some pressure on Lewis to perform here. 
Tai is ranked 11th. They are both known for their striking fan-friendly style. 
To the casual fan it might be expected that Lewis should get the win
The pressure might get to Lewis again.
Predication: Tai Tuivasa.
Israel Adesanya (c) vs Robert Whittaker (1) – Middleweight Title
The success of Whittaker performance on Saturday rest in his emotional state. 
In their first fight we saw Whittaker fight with far too much emotion it got dropped a basically knocked out at the end of the first and then knock out quickly in the second round. 
Since then he's looked nothing short of spectacular. 
He's somehow gotten even better. 
He's combining his striking and grappling to almost GSP levels. 
The body lock takedown he used against Gastelum might see a return against Adesanya. 
The biggest weakness in Adesanya grappling game is his bottom half guard. 
He only has one good escape which is a bridge. 
Most of the time he uses the bridge without an underhook. 
If he fucks up that bridge against Whittaker. 
He'll either take his back or even worse start moving to an arm triangle. 
If that happens in the 4th or 5th round there's a good chance that Issy doesn't escape he gets submitted. 
Early round I think he stays calm and works out of the position. 
But when your tired and jiu-jitsu is your weakness skill some big mistakes could be made by Issy. 
On feet, Adesanya wins even if Whittaker doesn't open up. 
Similar to the Romero Adesanya fight. 
But I don't see that happening. 
Whittaker will engage to a decent level on the feet to set up the grappling
I'm just leaning towards Adesanya because of the takedown defence. 
But when Issy is on his back the number of mistakes he makes are shocking, and fighters with a good understanding of jiu-jitsu would punish him for making them. 
I think Whittaker would if he was in the same position as Vettori and Jan. If I was game planning for Adesanya if say make sure you win the early rounds disengage the clinch as much as possible. 
If he does that he'll remain champ.
Predication: Israel Adesanya.
ALSO READ: [RESULTS] 1st South American ADCC Trials
I'm a Purple Belt in Brazilian Jiu-Jitsu and I write about the latest in all things martial arts.