Reading Time:
10
minutes
As MMA becomes more popular and mainstream, we start seeing the younger generation of fighters opting not to specialize in specific martial arts like boxing or wrestling.
Rather, they start crosstraining from the beginning with MMA in mind.
As MMA fighters have experimented with different martial arts, they've uncovered what works and what doesn't.
This article will explore the best martial arts for MMA and who use them to dominate the sport.
Let's get into it.
Best Martial Arts for MMA
Here are the 6 best martial arts for MMA:
Wrestling
Brazilian Jiu-Jisu
Boxing
Karate
Muay Thai
Sambo
As I mentioned before, MMA fighters will start their careers crosstraining these martial art styles.
Fighters like UFC middleweight, Edmen Shahbazyan began training at Glendale Fighting Club at the age of 9.
Here's an old interview where MMAInteviews speak to a 13-year-old Shahbazyan about training for MMA.
Now, he was also doing Jiu-Jitsu and wrestling tournaments in school.
But this was to improve himself as a mixed martial artist.
We still see specialists transferring over to MMA today, like:
Rodolfo Vieira – A multiple-time BJJ world champion who made his debut in 2019 and currently is 3-1 in the UFC.
Alex Pereira – The former GLORY Kickboxing world champion and one of the few men to knockout Israel Adesanya.
Mark Madsen – Olympic silver medalist Greco roman wrestler who is 3-0 in the UFC at the time of writing this article.
There are countless more, but these guys are specialists in their chosen martial arts.
It's still more common for fighters to come from specific martial arts into MMA, but this won't be the case in the near future with the newer generation of fighters.
Let's look at each of these fighting styles in MMA and who dominates with them.
ALSO READ: Punching Bag Buyers Guide | All You Need To Know
Wrestling
Wrestling is thought to be the oldest combat sport going all the way back to ancient Greeks and is still practiced all over the world by many different cultures.
Each with its own styles and rulesets.
The simple objective of taking someone down and pinning their shoulders to the mat makes it a very easy sport to learn for most people.
Wrestlers have always found their way to the top in MMA.
Notable wrestlers who made it big in MMA include:
Henry Cejudo
Jon Jones
Daniel Cormier
Demetrious Johnson
Matt Lindland
Tyron Woodley
And countless other champions and MMA legends who got their start in wrestling.
Why Wrestling is Good For MMA
Wrestling instills an attitude of hard work and a need for winning, unlike any other martial art.
It's a martial art where you're contently working, with no time to relax and get your breath back.
If you're not actively looking for takedowns, you're penalized.
In wrestling, either you get scored on or pinned.
This urgency translates well into MMA.
Wrestlers don't hang back much and seem to dictate the pace of the fight better as well.
They're also very good at dictating what range the fight takes place at.
If they're going against a good submission fighter, they can keep the fight standing. If they feel outmatched on the feet, they can take their opponent down.
For example, when Kamaru Usman fought Demain Maia, he shut down all 15 of his takedown attempts on-route to a unanimous decision victory.
Then in his next fight against RDA, he scored 12 takedowns and 17 minutes of control time because he knew he was outmatched on the feet.
Furthermore, most wrestlers start as children and they're regularly wrestling in tournaments.
So they already have a lifetime's worth of competition experience when they make their MMA debut.
So if you start wrestling as a teenager and decide to switch over to MMA when you've finished high school, you'll have had hundreds of wrestling matches before ever stepping into the cage.
That will be a huge benefit for you as a competitor.
Now there are more nerves going in for an MMA fight than a wrestling match, but you'll be better prepared for them.
The only thing that comes close to wrestling as a foundational martial art for MMA is Brazilian Jiu-Jitsu and Muay Thai.
ALSO READ: [EXPLAINED] 10 Best Martial Arts For Everyday Self-Defense
Brazilian Jiu-Jitsu
Brazilian Jiu-Jitsu has its origin from Japanese Judoka, Mitsuyo Maeda.
Maeda came to Brazil around the time of the First World War and fought in professional wrestling challenges hosted by the circus.
Where he later taught the art to the Gracies.
Over time, they refined the ground game of Judo known as Newaza.
Into what we know today as Brazilian Jiu-Jitsu.
A style of grappling that primarily takes place on the ground.
With a heavy focus on control, strangles, and joint lock.
Similar to kickboxing and wrestling, Jiu-Jitsu has had a big impact on mixed martial arts.
Notable Jiu-Jitsu fighters who made it big in MMA include:
Rodolfo Vieira
Demian Maia
Charles Oliveira
Jacare Souza
Neiman Gracie
Garry Tonon
However, all MMA fighters now include BJJ in their arsenal of weapons.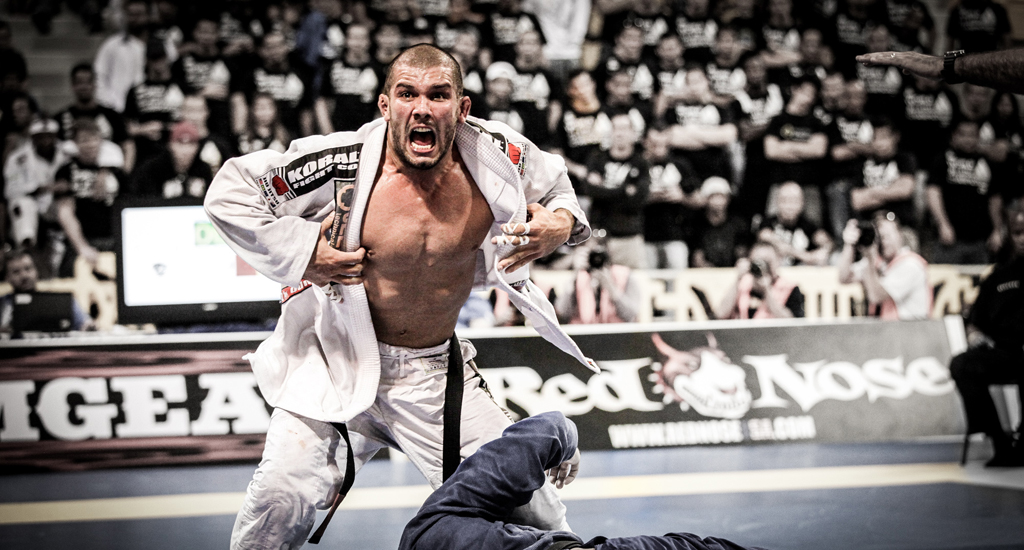 ALSO READ: Ultimate Jiu-Jitsu Gi Buyers Guide
Why Brazilian Jiu Jitsu Is Good For MMA
Similar to sport Jiu-Jitsu, mount and the back mount is the best positions for MMA grappling.
The rear-naked choke is the highest percentage submission in Jiu-Jitsu.
And it works extremely in MMA because you can avoid dangerous strikes.
The strongest submission will always be the ones that limit your opponent's ability to strike the most or are the easiest to set up.
The Rear Naked Choke is king and the guillotine is the queen of submissions in MMA.
The guillotine is so strong In MMA because it's the best counter to poorly timed double leg.
If you haven't got your head glued to your opponent's hip or in the middle of their chest when going for a double leg, a fighter with a good guillotine will snatch up your neck and strangle it.
Especially in chaotic exchanges on the feet when fighters are being dazed and dropped.
If you can apply just a little strangulation to a hurt opponent while keeping control of them, you're likely to get them to tap.
This is because they won't be relaxed enough to defend correctly.
With guillotines being so quick and easy to set up compared to other chokes, it's the reason why they're seen so frequently in MMA.
Lastly, limit your opponent's ability to strike and slam.
ALSO READ: [EXPLAINED] What Is Jiu-Jitsu? | The Best Martial Art
Boxing
The martial sport of boxing needs no introduction.
This fast-paced combat skill uses various systemized methods of training fighters for both offense and defense.
Fighters learn to hone their skills using a variety of punching styles, combinations, and fast footwork.
Boxing is one of the oldest fighting sports and tests a fighter's ability in various ways, including cardio.
Notable boxers who made it big in MMA include:
Petr Yan
Bobby Green
Holly Holm
Cody Garbrant
Boxing is pretty much a core martial art in MMA.
Developing good head and foot movement is crucial for fighting.
ALSO READ: Boxing Gloves Buyers Guide | All You Need To Know
Why Boxing Is Great For MMA
Having a boxing background before starting MMA will do wonders.
It will help you develop fast hands and good power output.
This is because of the bigger gloves in boxing, meaning a one-punch knockout is a lot more difficult so you're more reliant on precision and volume.
The likelihood of you having this one-punch knockout power is rare.
But focusing on using good volume and precision still means you can get knockouts.
Think Nate Diaz and Max Holloway.
Two fighters who get their finishes through volume rather than power.
They're always throwing multi-punch combos looking to drown opponents.
So if you're someone genetically gifted with cardio, a punch-heavy, high-volume approach will do wonders in MMA.
Your opponent will never be able to keep up.
They'll just get more and more tired while you unload combinations on them, breaking them with your pace and pressure
Boxing also helps to develop good head movement which is needed in MMA because of the small gloves.
You can't just cover up the same way as when you're wearing 12oz gloves because a lot of those shots will slip through and around your guard.
Lastly, boxing develops very good footwork that you don't get with kickboxing and Muay Thai.
Developing the skills of slipping punches by just a few millimeters will make you a devastating counter puncher.
Combine that with good hand speed, then you'll have a style of striking that's extremely risky to engage with.
Furthermore, the 4oz gloves also mean that less power is needed for a knockout.
So good head movement developed from boxing will translate very well into MMA.
ALSO READ: [EXPLAINED] 6 Ways Boxing Can Change Your Life
Karate
Karate was developed as a weaponless self-defense martial art.
It originated in Okinawa, Japan, in the 20th century.
The word Karate translates to "empty hand", and consists of different types of moves like punches, kicks, and blocks.
Karate is a very well-known sport across the world and it's being taught at many schools as an extramural activity.
Notable karate fighters who made it big in MMA include:
Stephen Thompson
Lyoto Machida
Michael "Venom" Page
Raymond Daniels
Georges St-Pierre
Let's look at why karate is good for MMA.
Why Karate Is Great For MMA
The wide-leg side-on stance is used a lot in MMA.
It allows for darting in-out movements which are very common in point fighting karate where the objective is to not get hit while landing your own strikes.
When a strike is landed in a karate fight, the points are scored and the fighters are reset.
Because of this, karate fighters have great distance management and footwork.
Unlike other striking arts, there is nowhere as much emphasis on not getting hit.
This fast in and out footwork does wonders for your MMA.
Firstly, it's a rarely used technique in MMA.
Most fighters use kickboxing or Muay Thai footwork, which is slower and has opponents plant their feet more.
Karate fighters rarely stop moving to plant their feet.
An obvious point, but if you're hard to hit, you're also hard to takedown.
If it's hard to predict how you're going to react, it's going to be difficult for your opponent to enter into takedowns.
All those karate fighters I mentioned earlier had above-average takedown defense.
The art also creates fighters who are great with their lead leg, using it like a good boxer uses their jab.
Stephen Thompson is so good at using his lead leg to manage distance and keep opponents at bay.
ALSO READ: Boxing Vs Karate | Which Is Better?
Muay Thai
Muay Thai, also known as The Art of Eight Limbs is a striking martial art using your hands, feet, knees, and elbows.
The art of Muay Thai came out of Thailand where it's still a very popular sport in the country.
Notable Muay Thai fighters who made it big in MMA include:
Valentina Shevchenko
Edson Barboza
Joanna Jedrzejczyk
Muay Thai is probably one of the main standing martial arts practiced by MMA fighters, because of its diverse arsenal of weapons and techniques.
Why Muay Thai Is Good For MMA
Muay Thai is the closest striking art to MMA striking.
The art of 8 limbs allows you to use punches, knees, elbows, and kicks which the other arts do not.
It also has a clinch game for getting opponents to the ground, which kickboxing doesn't.
If you clinch in kickboxing it's almost immediately broken up.
But in Muay Thai you can use it to land strikes and to sweep your opponent to the mat.
Striking on the ground isn't allowed in Muay Thai, but you're awarded the most points in a fight for the sweep.
So Muay Thai will help you get used to MMA striking, as the glove size also almost the same.
In ONE FC they use 4oz gloves for their Muay Thai fights.
Going into MMA, you'll already have experience dealing with kicks and other strikes.
The range you fight at is also almost the same as well.
I know Muay Thai tends to be more kick heavy than MMA, but it's a great base for your striking.
ALSO READ: [EXPLAINED] Boxing Vs Muay Thai | Which Style Is Better?
Sambo
Sambo is a Russian martial art developed in the 1900s.
It was used to improve the Russian military's hand-to-hand combat skills, with both combat and sports rulesets.
Combat Sambo has very similar rules to MMA besides a few rules regarding strikes.
But Sport Sambo is a bit limited and is more similar to judo.
With no strikes allowed and only straight joint locks allowed, they also don't allow chokes or twisting submission.
So only armbars, kneebars, and straight ankle locks are legal in sport sambo.
Notable sambo fighters who made it big in MMA include:
Fedor Emelianenko
Khabib Nurmagomedov
Blagoy Ivanov
Vadim Nemkov
Sambo is a very effective martial art for MMA, let's look at why this is.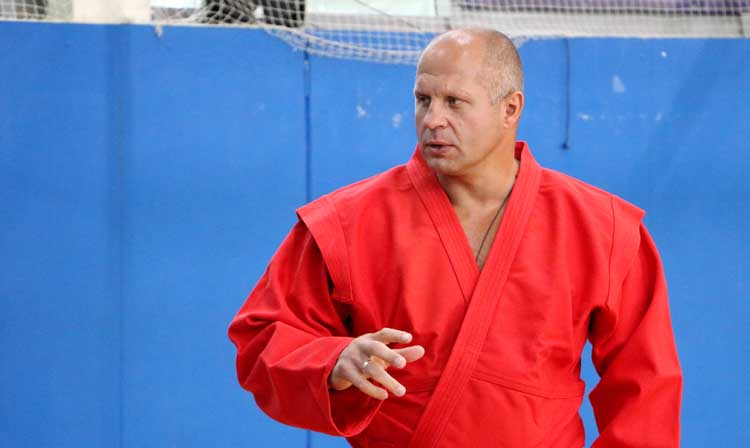 Why Sambo Is Good for MMA
Sambo transfers very well to MMA.
It helps develop a very strong takedown, and many sambo fighters have extremely good trips and foot sweeps.
Watch some of Islam Makhachev's fights if you want to see some good upper body takedowns
Techniques that are seen less frequently in folkstyle wrestling.
Furthermore, if you have Combat Sambo experience there is not as much of a jump when switching to MMA.
You're already used to strikes on the feet and submissions on the ground.
As most other martial arts have more limiting rules sets.
In Combat Sambo there are a few rules changes, but not many.
Mainly the pacing and positions which are slightly different.
You don't have to do much to translate your Combat Sambo experience into MMA.
Your biggest issue is finding a Sambo academy.
Unless you're in a former soviet country, it'll likely be very hard to find an academy.
ALSO READ: [EXPLAINED] 5 Best Martial Arts For Tall Skinny Guys
Conclusion
Any experience is better than no experience, all martial arts have something to add to MMA.
It depends on what interests you more: striking or grappling.
As in most towns and cities, you'll find plenty of striking or grappling martial art academies.
If you're an MMA fighter already, you'd get great insight crosstraining with martial artists with more specialized skillsets.
They'll give you different problems to deal with, and if you hold up well with pure strikers and grapplers, you'll probably do great in MMA.
ALSO READ: [EXPLAINED] 7 Best Martial Arts To Learn First
I'm a Purple Belt in Brazilian Jiu-Jitsu and I write about the latest in all things martial arts.