Reading Time:
3
minutes
Who Is Fernando Vargas?
Fernando Javier Vargas, aka "El Feroz", aka "The Aztec Warrior", aka "Ferocious Fernando" was born in California, United States on December 7th, 1977.
He started boxing at the tender age of 12, eventually becoming the youngest junior middleweight titleholder in history when he was 21 in 1998.
Vargas took part in the 1995 Pan American Games and won a bronze medal before representing the United States at the 1996 Olympic games.
Boasting an outstanding amateur career record of 100 – 5, he went on to a professional boxing career spanning 10 years.
Starting in 1997 at the age of 20 until he retired in 2007 at age 30.
Vargas was going to fight his professional debut in 1996 but broke his hand in training, postponing his first professional bought by 5 months.
His debut on the 25th of March, 1997 was against Jorge Morales.
Who Vargas dispatched in only 56 seconds.
He went on to win most of his fights by Knockout.
Of his 26 professional wins and only 5 losses, 22 were by KO.
We'll look at some of his most memorable fights in a bit.
ALSO READ: [BUYERS GUIDE] Boxing Gloves | Find Your Perfect Boxing Gloves
Where Is Fernando Vargas Now?
As of 2021 at the age of 44, Fernando Vargas is still involved with boxing and coaches two of his sons who are currently amateurs. He lives in Las Vegas with his wife and 4 children, and started his own non-profit organization in 2017 called Fernando Vargas Fighting Foundation.
The Fernando Vargas Fighting Foundation helps youth with "a boxing program, health and nutrition guidance, after-school tutoring, mentoring, and bullying strategies".
Other activities include athletics and community service.
Fernando wants to ensure children have a good future by developing their discipline and self-esteem.
Why Did Fernando Vargas Retire?
Fernando fought his last fight on November 23rd, 2007 against Ricardo Mayorga.
He said he'd accomplished what he wanted in boxing and it was time for him to retire, and to focus on other things in his life.
Vargas was never motivated by the money, stating he only ever boxed for the love of the sport.
ALSO READ: [BUYERS GUIDE] Punching Bags | All You Need To Know
What Is Fernando Vargas' Net Worth?
Fernando "The Aztec Warrior" Vargas has an estimated net worth of around $1 million.
He made most of his money through professional boxing, but has also appeared in TV shows, movies and brand promotions.
Vargas acted in a Crime Drama movie called Alpha Dog, and the TV show Moesha.
His family even had their own reality TV show called Welcome To Los Vargas, in addition to his appearance on Telemundo's, Top Chef Celebrity.
Vargas also has his own promotional company called Vargas Entertainment Promotions (VEP).
ALSO READ: [BUYERS GUIDE] Hand Wraps | Find Your Perfect Hand Wraps
Who Trained Fernando Vargas?
Vargas was coach by Eduardo Garcia in the La Colonia Gym which he used to walk to every day.
The two met when Fernando was only 16 years old, and Garcia immediately recognised his incredible talent.
Garcia taught Vargas everything knew about boxing.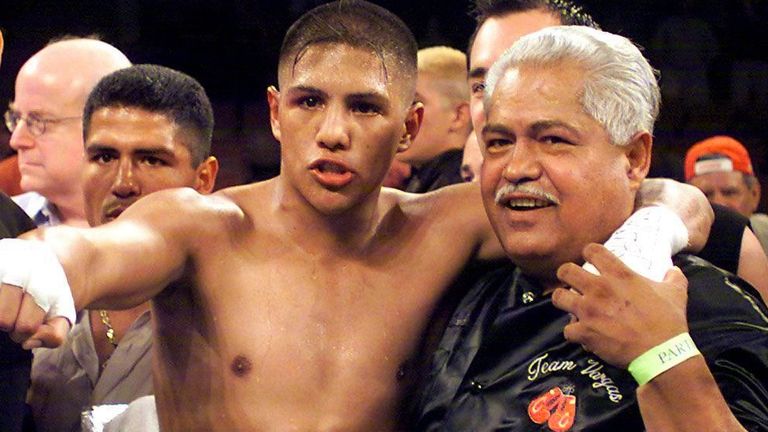 Who Beat Fernando Vargas?
Fernando fought 31 fights in his professional career, winning 26 and losing 5.
His 5 losses were to:
Felix Trinidad
Oscar De La Hoya
Shane Mosely (twice)
Ricardo Mayorga
Let's take a look at his most memorable professional fights.
ALSO READ: [FIGHT BIO] Zab "Super" Judah | What Happened To Him
Fernando Vargas Vs Ricardo Mayorga
The last fight of Fernando's career was against Ricardo Mayorga on the 23rd of November, 2007 in Los Angeles, California.
The fight was scheduled for 12 rounds and they fought all the way through.
Mayorga started the first 2 rounds the more confident and stronger fighter, landing most of his heavy strikes.
Vargas was knocked down in the first round but managed to get back to his feet.
Fernando came back in the 3rd round with some of his own heavy shots, landing nearly every right hook to Mayorga's face.
He dominated the 4th and 5th rounds too.
It was a war in the ring with both boxers giving everything they had.
Mayorga knocked Fernando down again in the 11th round, once again Fernando stood back up.
The fight finished after the 12th round with Mayorga winning by Majority Decision.
ALSO READ: [FIGHT BIO] Miguel "Junito" Cotto | The 4-Division Puerto Rican Champion
ALSO READ: [FIGHT BIO] Tommy "TNT" Fury | The Love Island Fighter
Fernando Vargas Vs Ike Quartey
Vargas fought Quartey on April 15th, 2002 in Paradise, Nevada.
Fernando started the bought as the more dominant fighter, keeping Ike on the defensive.
Quartey managed a few heavy punches of his own, but couldn't hurt Vargas.
It was exciting fight, keeping fans on their feet.
The fight ended after the scheduled 12th round with Vargas winning by Unanimous Decision.
ALSO READ: [FIGHT BIO] "Irish" Micky Ward | The Toughest Boxer In The World
Fernando Vargas Vs Yori Boy Campas
Fernando and Yori fought on December 12th, 1998 in Atlantic City, New Jersey.
Vargas started the first round very confident and focused, throwing good combinations to Yori's face.
Yori fought back in round two but couldn't land any significant strikes of his own.
Fernando became more aggressive as the fight went on, badly cutting Yori's right eye.
The fight was scheduled for 12 rounds but was stopped in the 7th.
Vargas won the fight by RTD (corner stoppage).
ALSO READ: [FIGHT BIO] Vinny Pazienza | The Pazmanian Devil
ALSO READ: [FIGHT BIO] Michael Moorer | The First Southpaw Champion
Fernando Vargas Profile
Born
December 7, 1977
Nationality
American
Division
Super middleweight
Light middleweight
Height
5 ft 10 in (178 cm)
Weight
74kg
Reach
70 in (178 cm)
Debut
March 25, 1997
ALSO READ: [EXPLAINED] Boxing Vs Muay Thai | Which Style Is Better?
Fernando Vargas Professional Record
| | | |
| --- | --- | --- |
| When | Opponent | Result |
| March 25, 1997 | Jorge Morales | Win (KO) |
| April 26, 1997 | Claude Staten | Win (TKO) |
| June 7, 1997 | Bill Burden | Win (TKO) |
| June 20, 1997 | Jim Maloney | Win (KO) |
| July 12, 1997 | Eugene Lopez | Win (KO) |
| August 19, 1997 | Kevin Payne | Win (TKO) |
| October 4, 1997 | Alex Quiroga | Win (TKO) |
| November 22, 1997 | Jose Miguel Fernandez | Win (TKO) |
| December 13, 1997 | Eduardo Martinez | Win (KO) |
| March 13, 1998 | Dan Connolly | Win (TKO) |
| April 14, 1998 | Romallis Ellis | Win (TKO) |
| May 9, 1998 | Ron Johnson | Win (TKO) |
| June 23, 1998 | Anthony Stephens | Win (TKO) |
| August 22, 1998 | Darren Maciunski | Win (TKO) |
| December 12, 1998 | Yori Boy Campas | Win (RTD) |
| March 13, 1999 | Howard Clarke | Win (TKO) |
| July 17, 1999 | Raul Marquez | Win (TKO) |
| December 4, 1999 | Winky Wright | Win (MD) |
| April 15, 2000 | Ike Quartey | Win (UD) |
| August 26, 2000 | Ross Thompson | Win (TKO) |
| December 2, 2000 | Felix Trinidad | Loss (TKO) |
| May 5, 2001 | Wilfredo Rivera | Win (TKO) |
| September 22, 2001 | Jose Flores | Win (KO) |
| September 14, 2002 | Oscar De La Hoya | Loss (TKO) |
| July 26, 2003 | Fitz Vanderpool | Win (TKO) |
| December 12, 2003 | Tony Marshall | Win (RTD) |
| March 26, 2005 | Raymond Joval | Win (UD) |
| August 20, 2005 | Javier Castillejo | Win (UD) |
| February 25, 2006 | Shane Mosley | Loss (TKO) |
| July 15, 2006 | Shane Mosley | Loss (TKO) |
| November 23, 2007 | Ricardo Mayorga | Loss (MD) |
Source
Hi! I'm a Wrestler and Writer for Strictly Fighters, sharing the latest news in martial arts.
Visit our about page and get to know the team.