Reading Time:
5
minutes
Who Is Tommy Fury?
Tommy Fury (Tomas Michael John Fury), also known as "TNT" was born on the 7th of May, 1999.
He's a British-born professional boxer, raised in Manchester that fights in the Light-Heavyweight division.
Fury is also a reality TV star, appearing on the show Love Island in 2019.
Tommy started boxing seriously in 2011 at the age of 12, eventually starting his professional career in 2018 at 19-years old when he fought Jevgenijs Andrejevs and won by points.
For a while, he was coached by the British legend in the sport of boxing, Ricky Hatton based in Manchester before splitting in 2019.
ALSO READ: [BUYERS GUIDE] Boxing Gloves | Find Your Perfect Boxing Gloves
What Does Tommy Fury Do For A Living?
Tommy is a professional boxer and social media influencer. He makes his living from prize money, boxing sponsorships, and brand endorsements which he promotes on his social media accounts.
He's currently the brand ambassador for companies like Boohoo Man.
In addition to his own business ventures, he also makes money for appearances on TV.
Tommy recently collaborated with his Love Island co-star Curtis Pritchard.
They've started a show called The Boxer & The Ballroom Dancer which will be featured on ITV2.
ALSO READ: [BUYERS GUIDE] Punching Bags | All You Need To Know
Are Tommy Fury And Tyson Fury Related?
Tommy and Tyson Fury are half-brothers, they have the same dad but different mothers. Tommy's mother is Chantal Fury, and Tyson's mother is Amber Fury.
Their dad, John Fury, is an Irish-British cornerman, a bare-knuckle fighter, and a former professional boxer.
Tommy and Tyson are two of John Fury's children.
John currently has 5 children including Tommy Fury, John Fury Jr., Tyson Fury, Roman Fury, and Shane Fury.
ALSO READ: [BUYERS GUIDE] Hand Wraps | Find Your Perfect Hand Wraps
What's Tommy Fury's Net Worth?
Tommy Fury has an estimated net worth of around $1.4 million. He reported having made an estimated $4,140 a day in 2020, with impressive total earnings of around $1,518,000 for the year.
After his stint on Love Island which saw his popularity shoot up, he's received substantial sponsorships from well-known companies like McDonald's and Disney Plus which he promotes to his 3.5 million followers on Instagram.
He made only around $345 per day from his appearance on Love Island.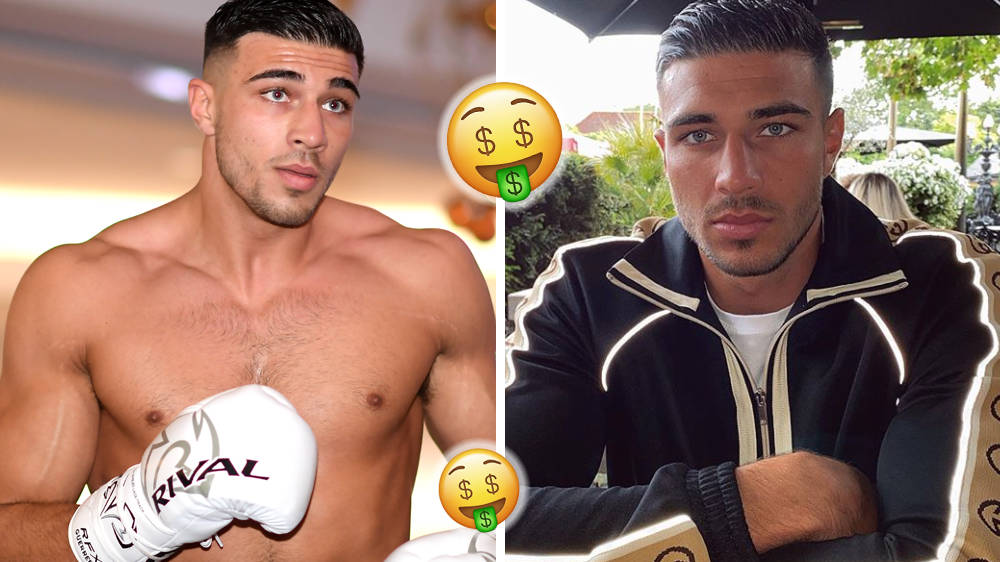 ALSO READ: [ULTIMATE FIGHT BIO] "Irish" Micky Ward | The Toughest Boxer In The World
Does Tommy Fury Still Box?
As of 2021, Tommy Fury is still actively boxing.
Tommy took a break from his boxing career for 9 months to appear in the show Love Island.
His last fight before joining Love Island was on the 23rd of March 2019.
He then came back to boxing on December 21st, 2019 to fight Przemyslaw Binienda.
Tommy has since been on a winning streak and is even scheduled to fight on the Tyrone Woodley vs. Jake Paul undercard in August 2021.
Let's look at Tommy Fury's most memorable fights so far.
ALSO READ: [ULTIMATE FIGHT BIO] Vinny Pazienza | The Pazmanian Devil
Tommy Fury Vs Jevgenijs Andrejevs
Fury fought his professional debut against Andrejevs in Manchester England on the 22nd of December, 2018. The fight was scheduled for 4 rounds.
Tommy looked good and very relaxed as the first round started. He came out strong, landing good right hooks to the face and body, giving Andrejevs no space to punch back.
Andrejevs was kept on the back foot most of the fight, not able to land any significant shots on Fury.
Fury and Andrejevs fought all 4 rounds, Tommy being the most dominant boxer throughout.
Tommy won the fight by points, making his record 1-0.
ALSO READ: [ULTIMATE CARE GUIDE] How To Clean And Maintain Punching Bags
Tommy Fury Vs Callum Ide
Fury fought his second professional fight against Ide on March 23rd, 2019 in Leicester, England.
The fight was scheduled for 4 rounds but ended in the first.
Tommy came out of his corner very confident, aggressively throwing shots at Ide and keeping him on the back foot.
Callum got knocked down in the first 55 seconds with a powerful body shot from Fury but managed to get back to his feet.
After attempting to fight back, Ide was knocked down again with another hard body shot by Fury.
This time he didn't stand back up, making it Tommy Fury's first KO in his professional career.
Tommy Fury won the fight by KO making his record 2-0.
ALSO READ: [EXPLAINED] How To Clean And Maintain Boxing Gloves
Tommy Fury Vs Przemyslaw Binienda
Fury fought Binienda in London on the 21st of December, 2019.
The fight was scheduled for 6 rounds but didn't even make the second.
Tommy applied the pressure early on, storming at Binienda and throwing heavy punches.
Fury knocked Binienda down for the first time in the first 15 seconds with a hard right hook to the face, but he stood back up.
Binienda wasn't on his feet for long before being knocked down for a second time.
Again he managed to get his feet back under him.
Tommy came straight back at Binienda, throwing a heavy barrage of punches and breaking through Binienda's defenses.
The referee stopped the fight with 2 minutes remaining, giving the win to Fury by TKO.
ALSO READ: [EXPLAINED] How To Clean And Maintain Hand Wraps
Tommy Fury Vs Genadij Krajevskij
Tommy fought his 4th professional bought against Genadij on November 13th, 2020 in London.
The fight was scheduled for 4 rounds but only lasted into the 2nd.
In the first round, Fury and Genadij both started out evenly, exchanging combinations and heavy blows.
Tommy seemed more confident in his punches, landing more than Genadji.
The second round started and Genadij came out aggressively, swinging at Fury with little success.
Tommy was more aggressive near the end of the round, landing a beautiful uppercut followed by a left-right combination which dropped Genadij to the mat with only 10 seconds left of round 2.
Genadij was knocked out cold, giving the fight to Fury by KO.
ALSO READ: 9 Punching Bag Facts You Need To Know
Tommy Fury Vs Scott Williams
Tommy fought his 5th professional fight against Scott Williams on the 27th of February, 2020 in London, England.
The fight was scheduled for 4 rounds but didn't even see the third.
Tommy knocked Williams down twice in the first round with powerful body shots, but Williams got up both times and survived the round.
They went on to the second round where Tommy continued to dominate.
Fury then knocked Williams down for the 3rd and final time with a right hook to the chin.
Tommy won the fight by TKO.
ALSO READ: [EXPLAINED] Striking Vs Grappling | Which Is Most Effective?
Tommy Fury Vs Jordan Grant
Tommy and Jordan Grant fought on June the 5th, 2021 in Telford, England.
The fight went all of the scheduled 4 rounds.
Fury and Grant started evenly, with both fighters throwing and taking punches.
Fury started looking more dominant as the fight progressed, landing more punches than Grant.
Tommy landed heavy shots to the face and body, slowly swelling Grant's eyes closed.
The fight ended after the 4th round with Tommy Fury winning by points, making his record 6-0.
ALSO READ: [FIGHT BIO] Michael Moorer | The First Southpaw Champion
Tommy "TNT" Fury's Profile
| | |
| --- | --- |
| Born | 7 May 1999 |
| Nationality | British |
| Division | Light Heavyweight |
| Height | 6 ft (183cm) |
| Weight | 75kg |
| Reach | 76 in (193cm) |
| Debut | 22 December 2018 |
Tommy Fury's Professional Record
| | | |
| --- | --- | --- |
| When | Opponent | Result |
| 22nd December 2018 | Jevgenijs Andrejevs | Win (PTS) |
| 23rd March 2019 | Callum Ide | Win (KO) |
| 21st December 2019 | Przemyslaw Binienda | Win (TKO) |
| 13th November 2020 | Genadij Krajevskij | Win (KO) |
| 27th February 2021 | Scott Williams | Win (TKO) |
| 5th June 2021 | Jordan Grant | Win (PTS) |
ALSO READ: [EXPLAINED] How Much Money Do Boxers Actually Make?
Source
Hi! I'm a Wrestler and Writer for Strictly Fighters, sharing the latest news in martial arts.
Visit our about page and get to know the team.